Talking to my girls about death and loss is hard. I do not want them to face deep pain, but I know they will.   They have already faced some losses, but I know harder grief is coming. Just like I know painful loss is coming for everyone reading this. And some of you have already faced tremendous grief.   Life is full of losses.
In a recent conversation with my children, I said there were two things I wanted them to remember about grief.   First, you are not alone. And second, you can carry joy and grief together.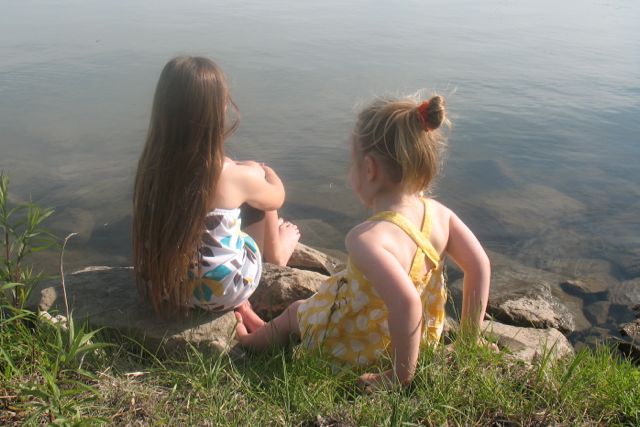 You are not alone. There will be other people who share your pain. You are not the only one going through the heartache. No one will have the perfect understanding of what you are feeling, but there will be others who also miss the person or thing you are grieving. Do not feel like you are the only person carrying such pain. You can share it with others. That does not mean you need to grieve like others do. We each love in our own ways, and therefore our grief is also unique.
Grieving individually and feeling alone are two different things. Feeling alone with the pain can be frightening. Let children (and adults) know they can ask questions or share their feelings. Children may seem like they are doing okay but actually have many questions. Days, weeks, months, even years after a particularly deep loss, find a way to raise the subject. Let them know it is okay to talk about a loved one who died. Let them know it is okay to still miss that person. Let them know they are not alone.
You can carry joy and grief together. When you are really sad and deep in grief, know that you can also have joy. The joy may not come right away. Or maybe it will. Either way is okay. Maybe you'll be sad, and then you'll suddenly laugh at something you see or hear.   That's okay. Do not feel bad if you are sad and then laugh.   Or you may be having a good time, and then you suddenly feel very sad.   That's okay, too. We can carry multiple emotions.
Do not think you have to have all the pain go away before you can have fun or even just go about your ordinary routine. You are not being disloyal to the person you miss if you are experiencing joy. We can carry the joy and grief as we learn to live with loss.
There are other things I want them to know about grief, and we talk about a lot more. But these two points provide a good starting place for finding freedom to grieve.