For some time now, people have been getting tattoos in memory of a loved one. Owners of tattoo businesses often claim they help people find closure. Common memorial tattoos showcase favorite pictures, a person's name, birth and death dates, or even a portrait of the person remembered. But why stop with just pictures and words to remember a loved one?  Why not inject the actual person into your body as part of the tattoo?
Some people are choosing to use cremains (human remains in the form of ashes) as part of a tattoo. It is not a new practice, but it is recently receiving more attention. Tattoo artists who are willing to do the procedure take a small amount of human ashes and mix them with the ink. Then they use that cremation ink to make the tattoo.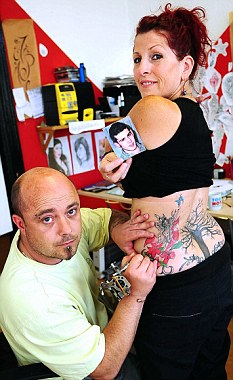 Some medical experts worry about the health implications of injecting human remains into your body. Tattoo artists who practice this method assure clients that there have been no problems. However, one customer did say the tattoo was itchier than usual. I guess it gives a new twist to saying that someone is getting under your skin.
The photo to the right shows Kim Mordue and her husband David, a tattoo artist in South Wales. According to an article in the Daily Mail Reporter, Kim is getting a tattoo that includes her son's ashes.  She loves that her son will be a part of her the rest of her life.
A few websites  give directions for making your own tattoo ink with cremains. A page on ehow.com directs you to pour ashes into a blender, add a little vodka, and blend for one hour. Other sites suggest that you bake the ashes first to help with sterilization. Some "experts" argue that ashes are already sterile and need no baking.
There is less discussion about whether it is proper to seek permission ahead of time from the loved one you want to inject into your body. Is it proper to ask for a person's blessing before he or she dies?  Perhaps that individual would want a say as to what part of the body will be tattooed with his or her ashes.
Would you find it comforting to have a memorial tattoo that includes ashes from a loved one?  Would you be honored to have someone else do this with your ashes?  Share your thoughts.