One day I walked into a church. "How are you doing?" someone asked me, a little too enthusiastic for the day I was having. Facing some hard issues at the time, I did not pretend all was fine.
I replied, "OK." He asked, "Just OK?  Not great? You should be doing great." He said something about as Christians we should be happy. I don't remember his exact words.  I was busy trying not to yell at him.  I walked away, wondering if he was right. Was there something wrong with how I was reacting to my situation?
It is true that I did not feel happy that day.  But I still had joy and thanksgiving in my heart. Experiencing joy and giving thanks does not require a cheerleading routine.
At times I hear people claiming the Bible says, "Be thankful for all things." But that's not right. First Thessalonians 5:18 says to be thankful IN all circumstances. We are not told to be thankful FOR everything in our lives. We are not expected to give thanks for loss and brokenness. However, the capacity lies within us to be thankful IN those dark times.  That little preposition makes a big difference.
Giving thanks points us to the light in dark times. 
A spirit of thanksgiving is important in other religions and cultures, too.  And suffering reaches all corners of our world.  So how and why should we give thanks in broken times?
Whining children are frequently told, "Be thankful for what you have."   But do they see others practicing this attitude?  As adults, we need to model for children how to be thankful IN all circumstances even when bad things are happening.  Giving thanks does not need to be limited to a holiday. Create a habit of thanksgiving in your daily life.
Keep a gratitude journal.
Send a thank you note to someone.
Think of blessings before you go to sleep.
Tell your family stories of gratitude from past events.
Give to charity when you are blessed with enough.
Share moments of thanksgiving at dinner or in the car.
Say thank you to people.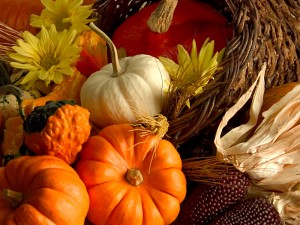 These actions are moments of thanksgiving that you can do even if everything is not right in the world.  You might be in a place of enthusiastic happiness, and I hope everyone gets to experience those times in life.  However, giving thanks is not limited to those who are "doing great."
But don't get me wrong here. Telling people to be thankful should not be wielded as a weapon. There are times when we face trials and it is hard to be cheery.  Sometimes telling others to "look on the bright side" and "be thankful for what you have" is a strategy for avoiding people's pain and struggles.  We need to exercise compassionate listening and helping along with encouragement to be thankful IN all circumstances. And if you are patient with people's sorrows, you will be one more reason for which they can give thanks.
In my work and personal life, I listen to stories of tragedy and loss. Witnessing grief is difficult, but I find that joy and beauty are never far away. Even during our darkest days, there is beauty. Even in times of despair, there are reasons to be thankful.
Giving thanks does not take away all our pain and struggles, but it points us to the light in a time of darkness.   Identifying reasons to be thankful gives glimmers of hope and strength to keep going.
We face hard times in our lives, and none of us will escape grief. But it is not a journey without joy. And you do not have to find "closure" or end grief before you can experience that joy. You do not have to have everything going right in your life in order to be thankful IN any situation.
Whether your Thanksgiving is quiet or rambunctious, may you find peace in giving thanks.