Every fall, my family takes on the challenge of a local corn maze. We are determined to find all of the wooden animals that are stationed throughout the maze. It generally takes us over an hour. We have our strategy as we work together to explore every nook and trail. If we had an aerial view map of the maze, we could go much quicker. But where would the fun be in that?
Life is a maze. If we look into the past, from a higher view, we see where we took "dead end" turns and later think we should have gone right rather than left. When viewing the maze from overhead, it is easy to see that "shorter path" to the finish.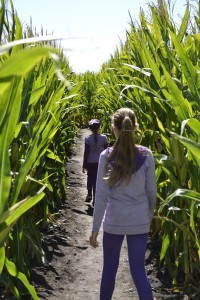 When we look back at our life, we see the maze. But unlike the predetermined maze in the corn field, the maze in our life unfolds along the way. We fail to realize, however, that the maze was not there when we started. We are not created to be a rat in a maze. We blaze the trail as we go.
There is not just one way that your life must unfold. We learn from those "dead ends" and we can find lessons and beauty in the trails that end up going in a circle. If you are going to look backwards, do so with the appreciation of the interesting pattern and patchwork of your life. Then turn forward again and keep creating your amazing journey.