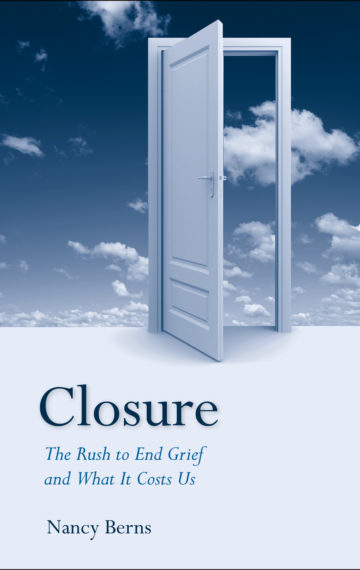 Latest Release
Available in:

Hardback, Paperback, Kindle, Audible

ISBN:

978-1439905777
Purchase from Amazon
Chapter One Preview
Do we really need closure after bad things happen?
When it comes to the end of a relationship, the loss of a loved one, or even a national tragedy, we are often told we need "closure." But while some people do find closure for their pain and grief, many more feel closure does not exist and believe the notion only promises false hopes.
Talking about closure limits how we think about grief and fails to capture the experiences of many who grieve over death or other losses. Some people struggle to meet social expectations for closure when privately they resent the idea or, worse, they wonder whether something is wrong with them because they do not have closure.
Nancy Berns explores these issues and their ramifications in Closure. Readers can use this book to untangle the web of closure and help understand the emotional and social experiences resulting from grief and loss.
What people are saying…
Compelling… Berns wisely counsels us to find other language and perspectives for living with grief, and this lucid debunking of the current use of the word 'closure' is a breath of fresh air, recommended for both general readers and specialists.
— Library Journal
It is my great hope that Nancy Berns' wonderful book Closure will finally bring "closure" to that most misused and unhelpful term. Berns offers a penetrating analysis that moves beyond the ways that the term is actually destructive to grieving individuals to a consideration of the formidable forces that keep such a notion in the forefront of our discourse on loss. This book is a "must read" for any one interested in the grieving process.
– Kenneth J. Doka, Ph.D., Professor of Gerontology, The College of New Rochelle, Senior Consultant, The Hospice Foundation of America
Closure examines how contemporary Americans—with their inalienable right to pursue happiness—have created a new emotion to help themselves deal with disappointment, loss, and grief. The need to find closure can justify forgetting or remembering, moving on or getting even, to say nothing of making a buck. Sprinkled with examples that range from hilarious to heartbreaking, this book explores closure's many meanings and uses.
– Joel Best, Ph.D., Professor of Sociology and Criminal Justice, University of Delaware, Author of Everyone's a Winner: Life in Our Congratulatory Culture